Criminal Minds: Evolution has marked the return of several Criminal Minds alum, but not all of the characters from the original series have come back.
One such character that viewers won't see in the Paramount+ show is Krystall Richards (Gail O'Grady), David Rossi's (Joe Mantegna) wife.
Krystall was Rossi's third wife, who he had divorced before joining the Behavioral Analysis Unit (BAU), but they rekindled their romance and remarried in Criminal Minds Season 14. Things have changed again, however, in Criminal Minds: Evolution.
Warning: This article contains spoilers for Criminal Minds: Evolution.
What Happened to David Rossi's Wife? Joe Mantegna on 'Criminal Minds: Evolution'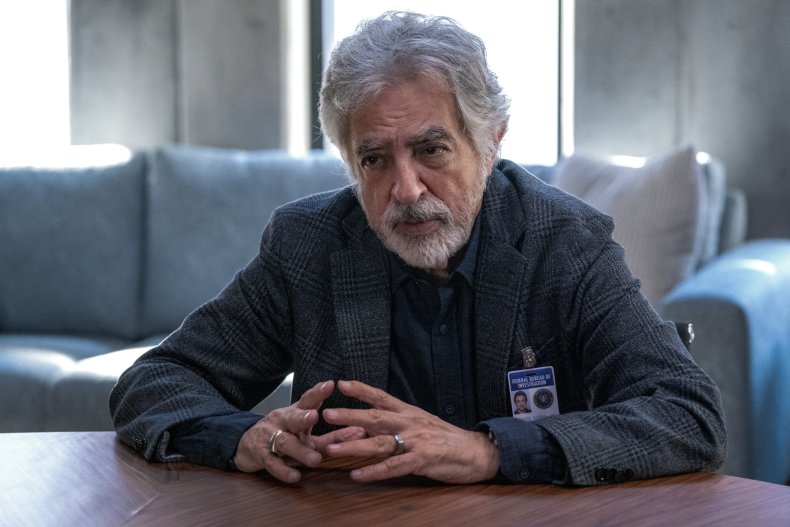 In the first episode of Criminal Minds: Evolution it's revealed that Krystall died a year before the events of the reboot, which is set in 2022— two years after Season 15 and in the aftermath of the COVID pandemic.
Rossi is consumed by his grief and has thrown himself into his work as a result, with fellow members of the BAU growing concerned for him and his wellbeing.
Though a specific reason for Krystall's death isn't given in the show, yet, Penelope Garcia (Kirsten Vangsness) mentions how she had been diagnosed with an illness that resulted in her passing.
Mantegna told Newsweek how interesting it was for him as an actor to explore a different side to Rossi in the new show, saying it had proved both "interesting and challenging" to try and portray onscreen.
"It's an example of showing that it's not a perfect world, and it's certainly not a perfect world even in a television series," Mantegna said. "In a sense that… I live by the dictum of 'everybody has a story, nobody gets a free ride,' and this is Rossi's story and he's not getting a free ride right now, but why should he?
"There's a great cartoon I saw once which is just two frames and one was this little caveman looking up to the sky saying, 'God, why are you doing this to me?' And then you hear the voice of God say, 'why not?' And I think it's a little bit of that."
The actor added: "It just goes to show that anything can happen to anybody, and it's how you deal with it that's important.
"You get knocked down, [are] you gonna stay down or are you gonna get up? So, now, we're gonna find out what Rossi is made out of. People can relate to that, especially over the times we've all been through in the last few years."
Reflecting on Rossi's chequered romantic past on Criminal Minds, and how he's been married four times to three women, Mantegna joked: "I've always said 'be careful if you date that guy!'"
The first two episodes of Criminal Minds: Evolution is out on Paramount+ now, and the show will continue to air weekly on the streaming platform.
Learn More: latest news on stimulus,u visa latest news,o panneerselvam latest news,g dragon latest news,latest news about stimulus check,j cole latest news,p chidambaram latest news,hepatitis b latest news,sarah g latest news,l&t latest news,p square latest news,