NEWS
Winless in first three games, Kraken still settling in as play shifts to Climate Pledge Arena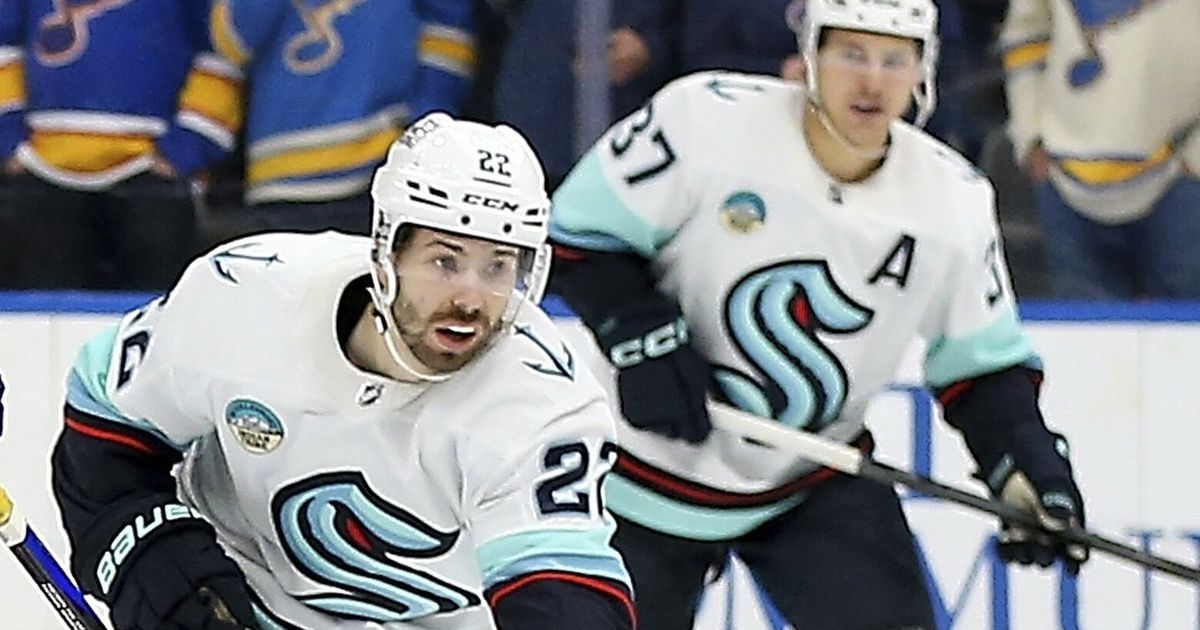 A key to the Kraken's run to the 2023 playoffs was high peaks and shallow valleys. They put together five streaks of five-plus wins, but never dropped more than three consecutive games, shootout and overtime losses included.
This season could be different right off the bat as Seattle is winless through its first three games while scoring just two goals. To avoid an actual troubling start, the Kraken will need to knock off a Colorado Avalanche team that surely remembers the details of its playoff elimination loss this spring, or a Carolina Hurricanes team widely considered a title contender. The Kraken host both teams this week at Climate Pledge Arena.
Saturday's final score of 2-1 suited a team untangling its scoring woes. But the St. Louis Blues were still the victors, as Seattle fell in the shootout. The Kraken (0-2-1) have dropped five straight shootouts dating back to April 16, 2022.
At least now they get one of those home openers that have gone so well for their opponents. Thanks to a scheduling quirk, the Kraken stood at the other end of the ice while the Vegas Golden Knights, Nashville Predators and Blues unveiled their rosters and fed off the excitement.
The first road trip wasn't what they wanted, and there are still things that need fixing. But no one sounds worried yet.
"It'll come. It'll come for us," goaltender Joey Daccord assured.
One positive sign is that each effort was better and cleaner than the last, though that aligned with each opponent's projected finish. The Golden Knights were the defending champions, the Predators were on the playoff cusp and the Blues are rebuilding.
One bright spot was the penalty kill, which held the Blues to two shots on goal on four power plays Saturday. The Predators averaged a shot on goal per man advantage, with the added bonus of a lengthy 5-on-3.
"It's been fantastic," defenseman Jamie Oleksiak said. "We've had some time together, which is huge. I think we do a good job reading off each other and kind of know what our overall goals are on the PK. I think it's paid off well for us, so we just have to stick with it here."
The PK is a perfect 11 for 11, one of three NHL teams that hasn't allowed a power-play goal through three games. That group added some new members and has been without mainstay Brandon Tanev for the past two games, but it's still humming along.
Pierre-Edouard Bellemare abandoned his broken stick behind the net during a power play in the first period. He still charged the point man, spun, slid and kicked his way to a clear and a change.
"Belly has fit in so well. He's an easy guy to play with, very vocal out there," Oleksiak said. "He's been around long enough, he understands the game and he can adapt well quickly. I think that's showed so far."
Another encouraging sign has been the goaltending. Neither Philipp Grubauer (two games, 56 saves) nor Joey Daccord (24 saves in St. Louis) have allowed a soft goal.
"At the same time, I think we're creating a lot of chances. We're playing good games," winger Andre Burakovsky said. "We just need to score — that's about it."
It's very early, but the Kraken haven't rediscovered their swagger yet.
"Our play away from the puck needs to be a lot better. We've talked about that a lot. Just trusting our instincts, playing with confidence," defenseman Vince Dunn said.
Jaden Schwartz's lone goal in St. Louis came on the power play. Improvement there was emphasized heading into the season.
"The power play hasn't been great. We're working on it," Burakovsky said before the Blues game. "Just trying to find a rhythm. It's going to come. We're just going to stay patient — we know what we can do."
"Sometimes you can get over-creative on the power play when you have an extra man out there," Dunn added. "I think we all just need to relax a little bit. Trust ourselves. I haven't seen the units be consistent since the start of the preseason, so I think maybe we're getting used to each other, getting used to tendencies. I think the chemistry is almost there, it's just a matter of execution."
Dunn and Burakovsky are both working on getting all the way back after missed time — Dunn during the preseason, Burakovsky the second half of last season. But everyone's "still shaking rust off," Dunn said.
Defenseman Brian Dumoulin is getting used to a new team after spending his entire eight-year NHL career in Pittsburgh. Kailer Yamamoto and Tye Kartye are in new roles on a new team.
Even the top three forward lines and top two defensive pairings, which are exactly the same as last season except for the reinsertion of Burakovsky, seem to be remembering how to work together again.
"Until we start seeing some momentum offensively, we're going to have to work hard. We've probably got to find a couple that are dirty goals, inside, rebounds," coach Dave Hakstol said. "As soon as those start going in the net, guys start feeling a little bit better. They loosen up a little bit more."
Comfort and confidence haven't come immediately. This week, they have a chance to take a page out of their previous opponents' books and draw some from the crowd. The Avalanche are up first Tuesday night at 7 p.m. (ESPN).